Christmas is fast approaching and I'm offering you a very special gift. I'd also like to celebrate the opening of my new Fulham Broadway clinic this month. Clinics in Richmond and Kingston will follow shortly.
My treatment of choice this month is hand rejuvenation – what can you do when your hands look older than your face? I'd like to encourage you to rejuvenate your hands half price using volumising fillers Juvederm or Restylane. Two double syringes cost £695. (Usual price £1390). Effects last at least a year.
I'd also like to touch on the latest news regarding tightening up regulations of the cosmetic medical industry.
Free gift – boxed set of 5 mini Skinceuticals products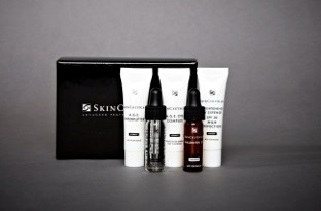 I'm delighted to offer a gift pack of these products by L'Oreal, to all clients having a Botox® or filler treatment before 1st March 2014. The Skinceutical range, formulated by renowned dermatologist Dr Sheldon Pinnell, has been subjected to rigorous scientific studies. Moreover, it's only distributed to doctor led medispas. At the heart of this range, I feel, is the importance of the antioxidant effects of Vitamin C on the skin (Phloretin CF, CE Ferrulic). These products, in particular, have quite a celebrity following with endorsements by Gwyneth Paltrow, Sienna Miller and Kelly Brook.
Gift available at all clinics until 1.3.2014.
St John Clinic, 20 Jerdan Place, Fulham Broadway SW6 1BH
Jerdan Place is flanked by Cafe Nero and M&S Foods, a 3 minute walk from Fulham Broadway tube and 1 minute from the Waitrose car park (free parking when you spend £20). I'll continue to treat all my clients, splitting my time equally between the Fulham Broadway and Wimbledon Park clinics. Harley St clinics continue to be held on Fridays.
All appointments 020 8946 9694.
Hand rejuvenation – offer price £695 for two 2ml syringes – usual price £1390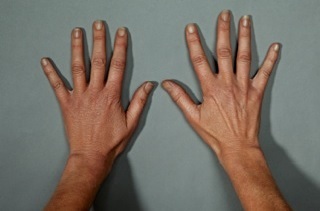 As we age, our hands suffer from loss of tissue volume leading to prominent veins and tendons. The skin looks dry, creased and pigmented from years of sun damage. I volumised my left hand three years ago and the effects are still evident. It looks younger than my right hand because the veins and tendons are disguised. See for yourself! The procedure involves two tiny needle entry points, followed by the gentle insertion of filler via a fine cannula. This method ensures that bruising is unlikely and discomfort is kept to a minimum. The whole procedure takes me 15 minutes. Pigmented lesions can be faded by a combination of tretinoin and hydroquinone based creams and by a course of Fraxel treatments. A hydrating filler such as Restylane Vital can further improve the skin's texture.
Regulation of the non-surgical cosmetic medical industry
The recent recommendations for the government by Sir Bruce Keogh is aimed at increasing patient safety. It is suggested that dermal fillers should become prescription items, therefore, essentially limiting their distribution to medical practitioners. Botulinum toxin based products (e.g. Botox®) are already prescription items but dermal fillers can theoretically be obtained and injected by those without any medical training whatsoever.
I've always maintained that the leading dermal fillers I use (Restylane, Juvederm) are of the highest quality, durable, reversible and most importantly, safe. However, when used by those without knowledge of facial anatomy and in non sterile conditions, the effects can be substandard and could lead to hospital admission because of complications.
The PIP scandal highlighted the physical and emotional damage that can be caused by substandard cosmetic surgical products. I'm glad that the focus is now on tightening up the non surgical cosmetic industry. The beneficiaries will be not only the general public but also the NHS which currently finds itself having to cope with complications often arising from non medically trained cosmetic practitioners.
Bruising
I'm very particular about reducing the chance of bruising as a result of Botox® or filler treatment. I now have ice packs available at all clinics and I use them regularly both before and after treatments. This is particularly relevant as we enter the Christmas party season!
I recommend taking Arnica 30C tablets (available at most chemists) on the day of treatment to be continued in the event of bruising. I also have a supply of Arnica cream at each clinic.
Forthcoming clinics
Wimbledon Park – Mon to Fri 9.30 am to 7.30 pm. Some Sats 10.00 to 2.00 pm
Fulham Broadway – Mon to Sat 9.30am to 6.30pm. Some Sundays available
Harley St – Friday lunchtimes except w/c 9.12.13 when the clinic will be held on Thursday 12th Dec late afternoon
Bath – 15th Dec, 19th Jan
Glasgow, Edinburgh West End – 7th Dec, 11th Jan, 8th Feb, 8th March
Edinburgh Colinton, Aberdeen – 8th Dec, 12th Jan, 9th Feb, 9th March
I am on annual leave from 28th December to 5th January.

I hope you have a wonderful Christmas and New Year and look forward to seeing you at one of the St John Clinics soon.
With all best wishes,
Lady St John of Bletso MBChB MRCOG
dr@stjohnclinic.co.uk
Tel 020 8946 9694
www.stjohnclinic.co.uk