This is my last newsletter of 2014 and as Christmas approaches I'm committed to making you look and feel your absolute best for the festivities ahead. Please note that I will be taking annual leave from December 16th to Jan 4th 2015. As my last working day, December 15th is earlier than usual please make sure you plan your treatments in advance this year.
Botox will always be important in the rejuvenation of the upper face in particular. However, fillers are destined to become at least as important over the coming years as we realise more and more that many of the features of the ageing face are due to volume loss.
The very word "filler" causes horror amongst many of you who immediately associate fillers with the" pillow faced" celebrity look. I'd like to continue to reassure you that at St John Clinic the motto is "correction" not "change" in that I will seek to reverse the facial problems e.g. wrinkles, depressions that occur with age. What I won't do is to change your natural face shape. Indeed this would require a lot of filler and be very expensive to do!
Juvederm fillers – "Dynamite" campaign by Allergan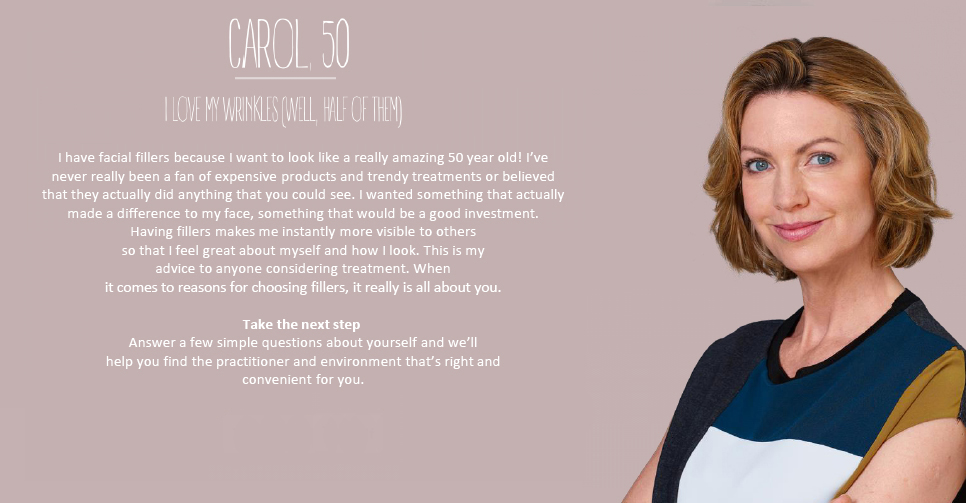 I'm extremely proud to announce that one of the models chosen to head this national campaign is Carol (pictured above) who is one of my own longstanding clients.
The main emphasis of this campaign is the promotion of dermal fillers as a means of looking your absolute best in a natural, age appropriate way.
Thousands of UK women, recently surveyed, have expressed real concerns that fillers can make you look "fake", "unnatural" or "as if you've tried too hard to look youthful". Allergan's primary message, which corresponds with my own philosophy, is that in experienced hands, judicial use of dermal fillers will make you look "fresh and natural" rather than "artificially altered".
You will probably notice increased media exposure of Juvederm in glossy magazines, billboards and shopping centre promotions leading up to Christmas and into the New Year.
Free consultations regarding dermal fillers 020 8946 9694 dr@stjohnclinic.co.uk
Sculptra- special offer 5th vial free for courses commenced before 28.02.15
I thought I'd introduce a filler treatment which I think would be very beneficial to many of you. Sculptra is a different type of filler to the hyaluronic acid based fillers (e.g. Juvederm) which I currently offer. It is a collagen stimulator and provides diffuse, gradual volumisation which lasts for up to two years. Both hyaluronic acid based fillers e.g. Juvederm and Sculptra can be used together.
I think Sculptra is particularly beneficial in the lower face where loss of volume creates the following problems:
Gauntness or wrinkles
Droopy mouth corners
Prominent nose to mouth lines
Sagging jawline
What I like about Sculptra:
1. It gives gentle, progressive volumisation from cheekbones downwards over a 6 to 8 month period
2. Volumisation gives lift therefore reduces sagging around the mouth corners and jawline
3. The effects look natural and can last for up to 2 years
4. The effects are not immediate (unlike the Juvederm range) but you get more cost effective volumisation in the long term
What you'll like about Sculptra:
1. I use fine cannulae (not needles). This is a safer technique and reduces bruising to a minimum
2. The procedure is only mildly uncomfortable but not painful as the filler is mixed with local anaesthetic.
3. For a limited period I'm offering a 5th vial free at 10 months.
The average requirement is 2 treatments of two vials spaced by 4 to 6 weeks then a free follow up vial at 10 months. Some will need more than 2 vials at each treatment for optimal results. I will detail your specific requirements during our consultation. The cost per vial is £400 The average price you'll pay is £800 at day 1, £800 6 weeks later and you will receive a free vial at 10 months. Re-treatment is recommended at 2 years.
Please visit www.sculptraaesthetic.com which I think best describes the benefits of this treatment.
New Belgravia clinic from December 2014
For those of you who'd like appointments in central London on weekday evenings I will be offering limited appointments to existing clients five minutes walk from Sloane Square. Please call or email the clinic for further details 020 8946 9694 dr@stjohnclinic.co.uk
Botox- free top ups up to 1 month post treatment
I'd like to reiterate that if the effect of your Botox treatment is going to last then it needs to be optimal at 2 to 4 weeks. Whether or not you are a longstanding client, I'm always happy to see you after your treatment if you are not entirely happy. If I feel you would benefit from a check up please make an appointment at any of the clinics and any top up will be free of charge.
Appointments during the Christmas and New Year period.
Although I will be on annual leave from Dec 16th to Jan 4th, you will be able to make appointments by telephone or email up to Dec 20th. All clinics will be closed from Dec 21st to Jan 4th 2015.
Forthcoming clinics from 8th December as follows:
Wimbledon Park – Monday mornings/Wednesday late afternoon/evenings/Friday mornings
Fulham Broadway – Monday afternoons/Wednesday afternoons/Friday afternoons
Harley Street – Friday late afternoons
Kingston – Tuesday afternoons/Thursday mornings/Saturday mornings
Richmond – Tuesday mornings/Wednesday mornings/Thursday afternoons/Saturday afternoons
Belgravia – Monday evenings/Tuesday evenings/Thursday evenings
Bath – 23rd Nov,14th Dec, 25th Jan, 8th Mar, 5th April
Glasgow – 6th Dec, 17th Jan, 28th Feb,21st Mar,25th April
Edinburgh, EH5 – 6th Dec,17th Jan, 28th Feb,21st Mar,25th April
Edinburgh, EH13 – 7th Dec, 18th Jan, 1st Mar, 22nd Mar,26th April
Aberdeen – 7th Dec,18th Jan, 1st Mar ,22nd Mar, 26th April
Ace Aesthetics

I would also like to introduce to you the services of Ace Aesthetics. Sue Ohri is based at our Richmond clinic and offers Soprano laser hair removal and various body and face tightening treatments. She has over 10 years experience and is currently running an offer to all of my existing clients (see details below) as well as some pre Christmas deals which may be of interest.
www.aceaesthetics.co.uk
0333 800 1231
** 20% off listed prices – Quote DrH25 on booking **
I hope you have a wonderful Christmas and New Year and look forward to seeing you at one of the St John Clinics soon.
With all best wishes
Lady St John of Bletso MBChB MRCOG
dr@stjohnclinic.co.uk
Tel 020 8946 9694
www.stjohnclinic.co.uk/