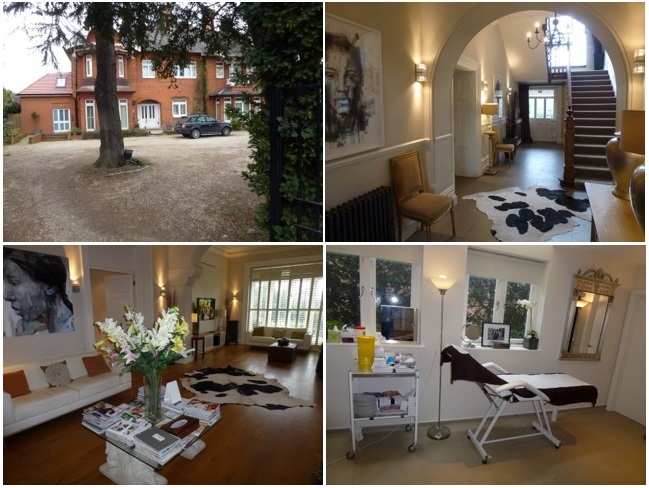 Wimbledon Park Clinic – off street parking and privacy at 107 Arthur Rd SW19 7DR
This location is the most popular of all my clinics. From the end of June 2013, the Elys clinic in Wimbledon will close and relocate to the Wimbledon Park clinic. My receptionists and patient files etc will all be based at Wimbledon Park enabling me to channel more resources and more of my time into this clinic.
Drivers will find unlimited off street parking valuable as will tube users (the clinic is a 3 minute walk from Wimbledon Park on the district line).
Moreover, you will no longer have to face the public with any tell-tale signs of treatment as you'll be able to apply make-up in privacy before you leave. I think you will find that the Wimbledon Park clinic offers you a relaxed and discreet environment in which to have your cosmetic medical treatments.
Evening clinics at Wimbledon Park
As this is a busy time of year, I'm extending my opening hours to 7.30 pm Monday to Friday. This should enable you to fit in a visit after work and to allow any redness or swelling to subside before work/ social engagements the next day.
Laser hair removal and semi permanent make-up
From July onwards, Amber and Lucia will be relocating from Elys to the Wimbledon Park clinic. They are offering discounted courses at the moment. Please call the clinic on 020 8946 9694 for details.
Therapeutic counselling at Wimbledon Park
Ruth Davis BSc (Hons) has joined us at the Wimbledon Park clinic. She is an experienced counsellor who provides a safe, supportive and non-judgemental relationship. She is trained to help you when stuck in unhelpful patterns or with anything causing you unease, unhappiness, anxiety and stress. Ruth offers hourly sessions weekday mornings and works within the BACP guidelines of complete confidentiality.
Harley St – 3rd floor, 152 Harley St, W1G 7LH
This clinic on Fridays is growing in popularity. I would urge you to travel there by tube. It is only a 3 minute walk from Regents Park tube station. Parking around there can be a nightmare. I tried once and will not do so again!
I can offer some flexibility with appointments in that clinics can be held on other days of the week. Should you have a particular preference, do let us know. All appointments 020 8946 9694.
Botox® – the importance of the follow up consultation
I read with interest an article recommending Botox® while holidaying aboard a cruise liner! Sounds like a great idea – a captive audience in relaxed mode seeking to return home tanned and mysteriously wrinkle-free. Victims of one-off Botox® (or cheaper alternatives) and of fillers treatments are at risk of returning home looking lopsided and odd. It is unlikely that they'll (want to!) meet the practitioner again in order to rectify the situation because he/she will probably be thousands of miles away….
A similar situation applies to large High St cosmetic medispa chains that tend to have a high turnover of inexperienced practitioners. Continuity of care is therefore compromised.
In my view, the optimum effect of Botox® in particular is achieved by an experienced practitioner getting to know your face. It is unusual to achieve a perfect result at the first appointment for all clients. Initially, a judgement of muscle strength is made. A follow-up appointment is so important in order to "fine-tune" the treatment in order to achieve an optimal outcome. The same goes for fillers. It is only when any swelling has gone down that it becomes evident whether or not additional filler is necessary for optimal correction.
Everyone's needs are different. By offering follow-up appointments we practitioners continue to educate ourselves and to improve our service to our clients.
Botox® to sharpen the jawline and to slim the lower face
Strategic placement of Botox®, the "Nefertiti lift" defines the jaw and results in a smoother, more youthful neck. Three injections into the masseter muscle each side of the jaw (you can feel the masseter muscles if you clench your teeth) slims the lower face.
Botox – Nefertiti lift , masseter £200 ( or £100 if an addition to Botox treatment elsewhere in the face)
Lip rejuvenation- £220
As we age, our lips lose both definition and volume. A small quantity of filler placed just inside the lip border (upper and/or lower) will restore lost definition. The result looks completely natural. "Less is more" in this area as we are all too often reminded by celebrities who seem to have lost sight of aesthetic facial proportion. Local anaesthetic (choose either cream or injection) ensures that this procedure is not painful.
Referral discounts – 10% off your next treatment
I'd like to show my appreciation when you refer a friend by offering 10% off a treatment to both you and your friend. Please
1) ask your friend to mention your name at the time of booking, and
2) remind us who you referred at the time of your own treatment.
Annual leave – April 4th – 7th
– August 13th – 27th
Please note that although no appointments will be offered, receptionist staff will cover these dates in order to take bookings.
Forthcoming clinics
All appointments dr@stjohnclinic.co.uk or 020 8946 9694
Wimbledon Park, 107 Arthur Rd, SW19 7DR. Weekday mornings and evenings
Elys, Wimbledon (closes at end of June) Mon to Friday afternoons & some Saturdays
Harley St – 3rd floor, 152 Harley St, W1G 7LH Friday lunchtimes
Bath – Monkshill, Shaft rd, Bath BA2 7HL April 21st, May 26th, June 30th, July 28th
Glasgow & Edinburgh EH3 – April 13th, May 11th, June 8th, July 6th, Aug 3rd, Sept 7th, Oct 5th, Nov 2nd, Dec 7th
Edinburgh EH13 & Aberdeen- April 14th, May 12th, June 9th, July 7th, Aug 4th, Sept 8th, Oct 6th, Nov 3rd, Dec 8th
I look forward to seeing you at one of the St John Clinics soon.
With all best wishes,
Lady St John of Bletso MBChB MRCOG
dr@stjohnclinic.co.uk
Tel 020 8946 9694
www.stjohnclinic.co.uk